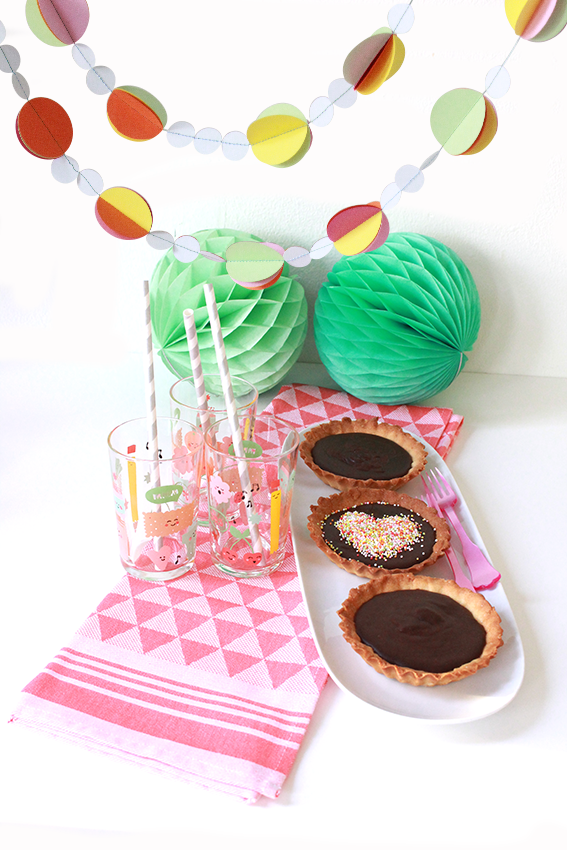 I translated it into French and English because not everyone does speak Dutch huh?
A party full of colors with a homemade paper garland to match your homemade pies?
isn't it so fancy?
If you want to match your decorations and your pies for a festival of the coordinated colors, follow my instructions.
 Here is how to make my DIY paper garland and chocolate pies.
For the garland : 
| | |
| --- | --- |
| | |
Needed: 
-one pack of colourful carboard paper ( Hema)
-one pack of correspondence white cards ( Hema)
-one bib circle punch, I used one to cut out  4 cm circles
one smaller circle punch, I used one to cut out 2 cm circles
– a sawing machine
Step 1: 
Choose coordinated colors with your decorations pies  from the cardboard pack, then cut out circles, For a meter garland, I needed  48 big cicles  and 30 small.
Step 2:
Saw your circles in a row, I used a pattern of 2 small white one, 4 big colorful one sewn together, 3 white one, etc.,
You can make your garland as long as you want.
Step 3:
Once the circles are sewn together, fold the big ones and move apart the circles to form a ball.
It was so simple, isn't it?
For the tartelettes: 
Needed :
-200g Flour
-100g Butter
-100g Brown sugar
-a pinch of salt
-1 egg
-200g chocolate
-200g liquid cream
-a pot of Hema cake decorations and
-a set of coffee stencils ( Hema)
Preheat oven to 180 ° C. In a bowl, put the flour and salt. Make a hole. Add the butter (soft but not liquid) cut into pieces. Mix with fingers. In a bowl, beat the egg with the sugar (for that sugar crystals dissolve better, it gives a smoother texture) and then add it to the above mixture. Mix again then form a ball.
Roll out the pastry thinly, cut it into rounds and put these in small round molds. Prick with a fork and bake in hot oven for 10 minutes: the pastry should be golden brown and appetizing. Turn out and cool slowly. Melt The Chocolate with the Liquid cream, then pour into your pies bottoms. Before the chocolate gets hard to use the stencil to create your lovely decoration with the cake topping decorations.
Your party can start, have fun!