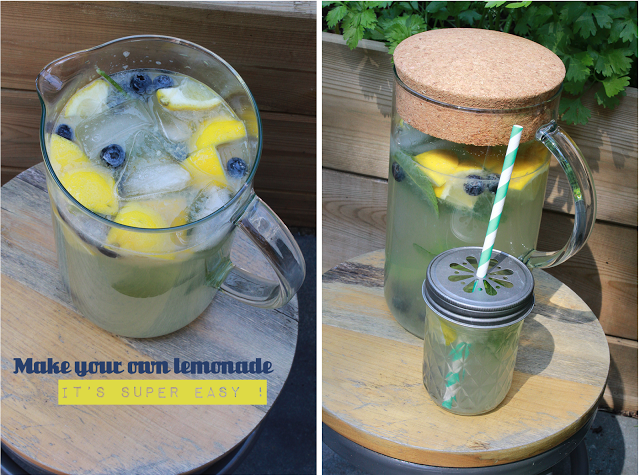 Se rafraîchir quand il fait chaud ? Le week-end dernier il faisait 30 degrés à Amsterdam
que boire pendant l'été ( indien oui oui on t'aime ) ?
Une limonade fait maison pardi !
c'est tellement facile.
Il suffit :
• d'une base de jus de fruit ici j'ai utilise deux citrons pressé mais on peut utiliser des oranges ou une purée de pastèques ou du melon…. on est créatifs, c'est selon ses goûts.
• d'une dose sucrée: on utilise au choix, un sirop (du sucre en poudre ou que l'on fait fondre à la casserole avec un peu d'eau ou de la stevia qu'on fait infuser). Du sirop de sucre de canne pour ceux qui en ont (vous les amoureux des cocktails!) ou encore du miel. Bref c'est selon les goûts et on fonction de ce qu'il y a dans nos placards.
• de l'eau: Plate ou gazeuse ou les deux !
• des glaçons
• des fruits pour la déco: par ce que c'est plus joli, on pense à des morceaux de citrons, des myrtilles sortis du congélateur, de la menthe…
Voila une fois que vous avez compris la base, tous est permis !
***
Cooling when it's hot? Last weekend it was 30 degrees in Amsterdam.
What to drink during the (indian) summer ?
Homemade Lemonade of course!
it's so easy.
Simply use :
• a fruit juice base: here I used two pressed lemons but you can use oranges or mashed watermelons or melons …. be creative, it's according to your taste.
• a sweet dose: you can choose from a syrup (powder sugar is melted in the pan with a little water or stevia that you infused ). Cane sugar sirop for those who own them (you coktails lover!) or honey. In short, you'll choose according to your tastes and to what is in our closets.
• water: plate or bubblely or both!
• ice cubes
• fruits for decoration: because it is prettier, we'll think about pieces of lemons, blueberries out of the freezer, mint…
Once you understood the base, everything is allowed!