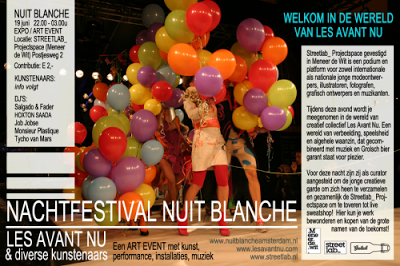 I will join the exibition this saturday at Meneer de Wit, come have a look and a drink !
Les Avant Nu
has been appointed the roll of curator for the Streetlab_Projectspace during the night of Nuit Blanche (and the days before and after). Marvel in our creativity, wonder about our insanity, be amazed by that which we are and what we will make you.
Enjoy music, crazy performances, beautiful artwork, photography and installations created by us and the artists of the future which we admire and trust in. And everything is for purchase, so you can take us and them into your own homes (now isn't that a lovely idea?).
And beer. A lot of beer sponsored by our dear friends at Grolsch!
Join us on the 19th of June at Meneer de Wit, Postjesweg 2 Amsterdam
2 euro admission which is, to be honest, next to nothing.