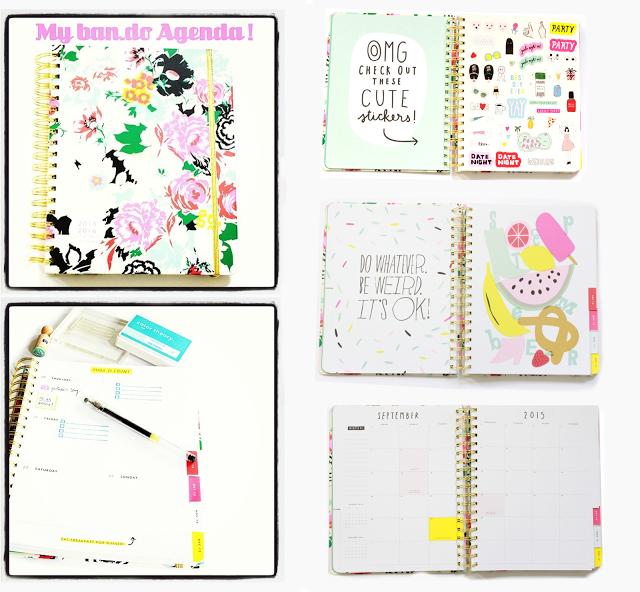 Les vacances ne sont pas finies ( voir même pas encore commencées pour certains )
que je vous parle déjà de la rentrée et de mon super
agenda Ban.do
Ban.do
est une marque californienne qui me fait sentir le soleil de Los Angeles !
C'est coloré, c'est fun et funky .
Mon agenda florabunda est tout beau avec plein de couleurs lumineuses et pepsi et rempli d'illustrations comme j'aime.
Ça sera surtout un agenda de travail! Duhh ! par la j'entent un agenda qui reste á la maison, ou je note touts les objectifs á atteindre, les projets á réaliser. les idées pour mon blog…
Un agenda de ministre quoi ! ( ou d'auto entrepreneuse créatrice de bijoux/ photographe / blogueuse / Big- boss ! )
Donc pour me motiver á bien travailler et pour réussir á effectuer un maximum de ma 'To do list' quotidienne, il me fallait bien cet agenda!
Pratique car il y a une double page de notes avant chaque mois,c'est la que j'y noterais mes objectifs pour chaque mois. Une double page pour le mois, ou je verrais facilement les projets reparti en semaines et les pages avec les jours ou je noterais ma 'To do list' # organisation #planification
L'agenda florabunda contient même une page de stickers, faut bien un peu de fun !
Bref , j'ai commandé mon agenda de ministre, car oui il est énorme ! ( il y a plusieurs formats mais moi je voulais celui a spirales que je trouve plus pratique) chez
Aritimi á Paris
, les frais de ports de la boutique de Ban.do étant monstrueux ( si bien que la 1ere fois que j'ai regardé, j'ai pensé qu'ils s'était trompé mais non ! et á ses prix exorbitant s'ajoute des frais de douanes au montant inconnu… )
Bref après recherches, j'ai enfin trouvé un magasin européen qui en vendais et avec des frais de livraisons honnête en plus!
Pour plus d'infos et pour commander,
contacter Dyane
et sous trois jours l'agenda devrais être chez vous 🙂 Bien sur tout dépend d'ou vous habitez, juste pour l'infos, pour moi ça a pris 3 jours après réception de mon paiement Paypal.
L'agenda commence le 27 juillet et c'est un 17 mois donc il va m'accompagner qu'en décembre 2016.
Boulot boulot, tu es plus fun en couleurs !
***
The holidays are not finished (or not even started yet for some)
that I already speaking of getting back to work and about my super Ban.do agenda
Ban.do is a Californian brand that makes me feel the sunshine of Los Angeles!
It's colorful, it's fun and funky.
My Florabunda agenda is beautiful with lots of bright & pepsi colors filled with illustrations as I like.
It will be mostly using my agenda for work! Duhh! I entent by that, it's an agenda that remains at home, where I'll note all the goals that I want to achieve, the projects. ideas for my blog …
In short, a Minister's agenda ! (or an agenda of an Entrepreneur / jewelry designer / photographer / blogger / Big-boss!)
So to motivate me to work well and perform with my daily 'to do list' , I needed this agenda !
Convenient as there is a double page of notes before each month, that's where I would note my goals for each month. A double page for the month, where I can easily see the project per weeks and pages with days where I can note my 'to do list'
# organization #planification
The Florabunda agenda even contains stickers page, for a bit of fun!
In short, I ordered my minister's agenda, yes it is huge! (There are several formats, but I wanted the one with a spiral that I find more convenient) in Aritimi in Paris.
The sending costs of the Ban.do shop being monstrous ( the first time I looked, I thought they had made a mistake but no! Of course plus its exorbitant shipping cost are added the customs charges & dutees with an unknow amount …)
After brief research, I finally found an Europeen shop that was selling them and with honest shipping prices on top!
For more information and to order, contact Dyane and within three days the diary should be at your home 🙂 Of course it all depends on where you live, just for information, for me, it took 3 days after My Paypal payment were receved.
The agenda starts July 27 and it is a 17 months agenda so it will goes with me till December 2016.
Work ,work, you are more fun in color!