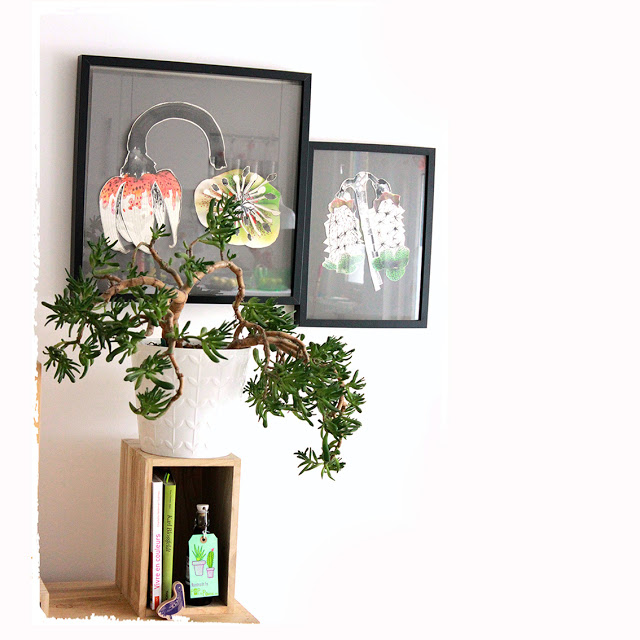 G
race à
Instagram
, j'ai pu découvrir le magnifique blog d'
Urban jungle bloggers
, Urban Jungle blogueurs est une platforme animée par deux blogueurs: Igor de Happy Interior blog et Judith de JOELIX.com.
'Chaque mois avec de nombreux autres blogueurs venant de partout dans le monde, ils partagent des idées pour créer une jungle urbaine à travers des idées de style, de bricoleurs et les trucs et astuces vertes.
Apportons un peu de vert dans nos maisons et nos blogs!'
Le challenge du mois de septembre s'intitule : Plants & art
Je profite donc de l'occasion pour vous montrer mes collages de plantes extraordinaires ainsi que ma plante favorite ma Crassula golum, que j'ai eu tout bébé mais qui a bien grandi depuis ( je la nourri avec mon
fertilisant liquide
! ) Pourquoi elle a une forme bizarre me direz vous ? et bien tout simplement dans mon ancien appartement, elle a du pousser entre les tuyaux du chauffage ( oui aux pays-bas, il sont souvent apparents ), d'ou la forme spéciale !
***
Thanks to Instagram, I was able to discover the wonderful blog of Urban jungle bloggers, Urban jungle bloggers is a platform hosted by two bloggers: Igor from Happy Interior Blog and Judith from: JOELIX.com.
'Every month we and many other bloggers from around the globe share ideas to create an urban jungle through styling ideas, DIYs, and green tips & tricks.Let's bring some green into our homes and blogs! '
The challenge of September is: Plants & Art
I take then this opportunity to show you my extraordinary plants collages and my favorite plant: the Crassula golum, I had it since it was a baby but it has grown since (I fed it with my liquid fertilizer!) Why does it have an odd shape you'll ask? Simply because in my previous apartment, it had to grow between the heating pipes (yes in the Netherlands, it is often apparent), therefore the special shape!