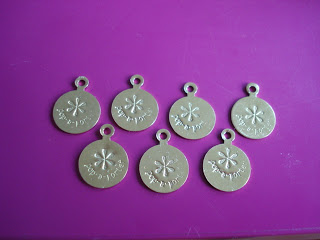 For the finishing touch, a metal label for my new jewellery brand
pop-a-porter
Pop-a porter is the ready-to-wear brand jewellery made by Patricia Thomazo next to her realization of unique pieces.
Pop-a-porter: is a combination of 'Pop Art' and 'Prêt- à -porter'.
'Pop art' for the use of colors: bright, vibrant en
out of touch with reality, for it's graphical qualitees. Of course for
the use of industrial techniques, like screenprinting and laser
cutting, allowing reproduction and creation of series; The Mass culture
is not the main imagery used, Mother nature will be prefer as a source
of inspiration where the mind gets lost in a endless decorative beauty.
'Prêt-a-porter' for the ready to wear aspect , more
clasical jewellery, the aims is to get in touch with the great
majority, with reconnizable jewellery in term of sizes and materials.
Everyday jewellery to acessorise your outfits.
In conclusion, you will find here colourfull & graphical
jewellery inspired by Nature or by abstract shapes to let the materials
and the colours talked to each other. A touch of humour can be found on
several pieces thanks to the theme or the unexpected materials.
The jewellery from Pop-a-porter are all handmade and available in mini series
, easy to wear to please yourself or someone else
Colors lovers , let's have have fun !
the pop-a-porter online shop will open really soon !